Webinar review: What brands should ask their agencies about Digital PR
On November 4th, Prolific North and CreativeRace tackled the question of what brands should be asking their agencies about digital PR in 2021 at a dedicated webinar.
The morning event also featured a case study from the MD of personalised clothing retailer Banana Moon, who provided a client-side perspective to the discussion. 
Speakers
Matt Jones, Head of Outreach, CreativeRace
Alex Grace, Managing Director, Banana Moon
The discussion kicked off with an intro from the event's chair, Prolific North Editor David Prior, before handing over to Matt Jones, who provided an overview of what CreativeRace does, in particular its performance team.
Jones said he's seen the media landscape changing first-hand over the past decade – his experience spans securing industry and trade publications, as well as coverage in more "vanity" titles.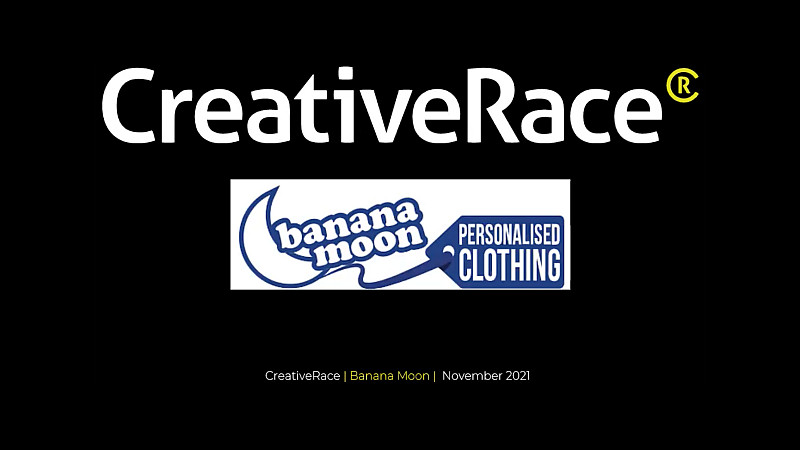 Next up the MD of Banana Moon introduced himself and his business, saying that the seller's ecommerce focus has given him experience in the world of SEO, link building and digital PR, and that Banana Moon is now focusing strongly on sustainable options for clients.
A brief digital PR history
Jones said that when he first started out, every link and piece of coverage was valuable – leading to negative practices including the buying of links, low quality and coverage in publications nobody was truly going to read.
This continues to this day but is a very "risky" strategy, he said. "Ultimately Google are very wise in terms of SEO value – they're either going to do nothing so you're throwing money down the drain, or they could get you penalised."
Alex Grace added that Banana Moon itself had previously acquired a Google penalty due to a previous agency partner's link-building process which involved spam and paid-for links. This led them to move agency, make sense of the penalty, and ultimately get it lifted.
Another issue he encountered was "non-relevant link building and generating poor links for the business". They haven't always been clear on vision, strategy and differentiation – "something we've put right in in recent years" – so kick-off meetings would see agencies suggest generic strategies that didn't exactly work for Banana Moon.
Now they have a focus on moving towards sustainable choices and are clearer on that, they can say where they want to be, and their agency – CreativeRace – can say how they'll get Banana Moon there.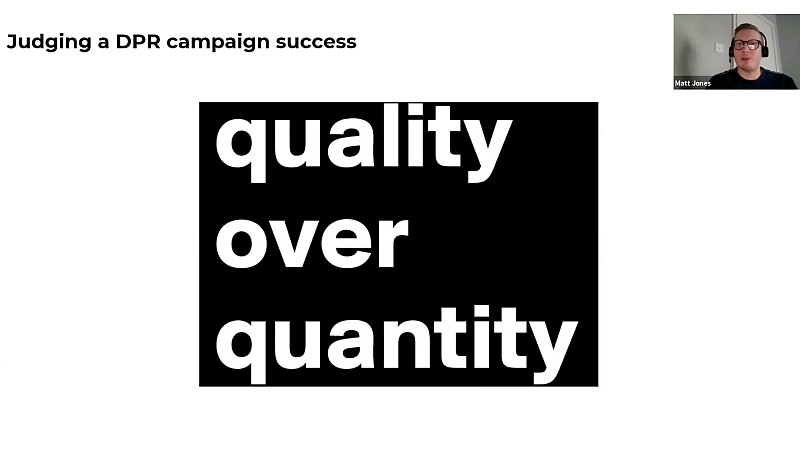 He said your agency should tell you how they're going to achieve what you want, but you need to give them the time and trust, if you've chosen your digital PR agency diligently.
Measuring digital PR returns
Matt Jones said, "in terms of the value of digital PR in figures, this is a common question that we get asked, and it is a very difficult conversation". It's vital to remember that digital PR creates coverage in a number of publications simultaneously and works by making a brand a go-to when people think of where to buy a product. However it's hard to measure because volume doesn't always match returns, and there's no one-size-fits-all approach.
Instead, it is much more about relevancy and quality. The former involves thinking about the vertical and the content itself – "thinking, does it fit right with the client? And is the content related to the audience?" The latter involves things like Domain Authority, which is useful, but also concentrating on balance.
One example would be to consider the trade-off of converting dozens for a kitchen client through a very specific website, against only converting a couple having been mentioned in a broadsheet. Which is better is down to the agency and client.
"I would always take 10 really good quality and relevant links over 200 from all sorts of places," Jones added.
Transparency between client and agency is, he said, vital for success. "You're trying to get editorial coverage, not advertorial coverage." If a brand goes to its agency and asks for specific coverage in a high-profile national publication, the agency needs the confidence if necessary to say it isn't going to work for these particular reasons.
A catalyst approach works, but it is also worth considering how Google works, said Matt. One piece of coverage in the Daily Mail could be syndicated across multiple sites, which sounds great for reach, but Google knows they're not adding extra value and will ignore them.
Not trusting your agency, or standing up to a client who doesn't trust you as an agency, can lead to negative outcomes. A foolproof approach, according to Jones, is to look at any reports or links and ask three questions. "Is it a good site? Is it topically relevant? And does this link make sense?"
For Alex, he said it's about how an agency can help you as a business. The key for him was making sure the short-term plan was in place, then seeing what the long-term plan looks like, and finding out if the agency has thought about that process.
David Prior asked Matt how important it is for agencies to have specific relationships with journalists in particular sectors. Very, said Matt. "Agency-side you will work with all sorts of different industries – but those relationships are really, really important."
Journalists' inboxes are full so maintaining a continuing relationship is a great way of getting attention and ensuring success for a client. "But ultimately, some of the best things happen in digital PR when you have journalists coming to you."
Alex added that it's a challenge from the client's side – an agency will naturally be optimistic about their network. What he looks out for is ambitions of targets as well. Also, from a client's perspective, when someone is realistic that one piece of content won't necessarily go to the big hitters but suits a local or niche angle better, that's positive.
Jones said that experience is definitely something you should be asking, and a good fit is important. Every business is different and every agency will work differently, but "you need to make sure they're a good fit for you, your brand, and your business at that time."
Transparency is a given too, he continued – "this applies to both client and agency." For clients, you need to be clear on what you do want, so you're not disappointed by the suggestions your agency makes, and they can use their expertise to produce what you want. For agencies, it's vital to be honest and up-front, and share if something's working really well, along with if something's not.
Alex agreed, saying that brands need to share important information to nurture the relationship. The best thing to do is say "we want to work with you – here's everything that we've got… our strategy, vision, values, our business data, our intel. Now, this is where we want to be."
You get better results as a by-product of that relationship, said Jones.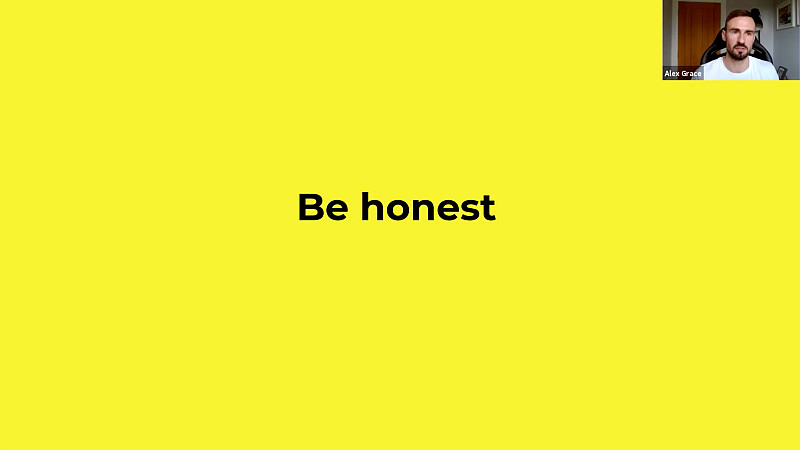 Brand front and centre
Of course, your brand may evolve, said Matt, but it must "be front and centre of everything you do." It'll help the agency say why they truly think something will work, and collaborate on a successful digital PR campaign.
What's more, if you both keep the brand in mind, the client will also be able to push back in a way the agency understands. "The more you get into that [brand-focused] mindset, instead of just doing campaigns for campaigns' sake, the better the links you're gonna get."
Ultimately, he said, clients are paying for the agency's experience, not just for them to do what is requested without question. This is where transparency and honesty comes back in – both parties need the confidence to push back on the other and explain why, he and Alex agreed.
It also ties into the selling process, added Matt, "and making sure you know what you're buying from this agency, what they're going to deliver – even, to some extent, who's on the team."
He reiterated that even if something goes wrong, be honest about it. Most clients will understand, and as long as there are quick wins, tactical PR or something to ensure coverage and links in the background, it should turn out fine. And with honesty from clients, the agency can go back to the drawing board if necessary and get a better result.
Asked by a member of the audience what tools he recommends for PR success management, Jones name-checked services including Semrush, CoverageBook and Ahrefs. Many help with relationship management too – giving PRs the opportunity to thank journalists for coverage they might not otherwise have spotted.
He was also asked about making the most out of a relationship with a PR agency, recommending that brands ask what the agency needs – not only should they learn about your business, they should find out your goals too.
The third question was about the idea of guaranteed results, when the investment for small businesses can be significant and they want assurance. Matt said he's "dead against" guaranteed results, but it's about holding your nerve and trusting your agency knows what to do if you've invested.
Jones concluded by providing takeaways for the audience, namely to always consider both quality and relevance in any digital PR activity.