How to maximise the performance of paid advertising
A common theme our performance team comes across when auditing a client's Paid Social and PPC accounts, is that one channel set up is always better than the other. This is usually down the fact that within in-house marketing teams, often both paid advertising channels are run by a specialist in one of the two areas.
Although Paid Social and PPC complement one another, the structure and approach should be completely different, and they should be treated as they are – separate marketing channels. 
Paid Social & PPC best practices
Whilst PPC and Paid Social are both forms of paid advertising, the way they are best used differs in line with your business KPIs.
PPC is best for responding and reacting to customers' wants and needs, as they already know what they want and are actively searching for it.
Paid Social is a more proactive marketing channel, as you are reaching out and targeting passive customers. 
Below are some key recommendations on the set-up of both channels: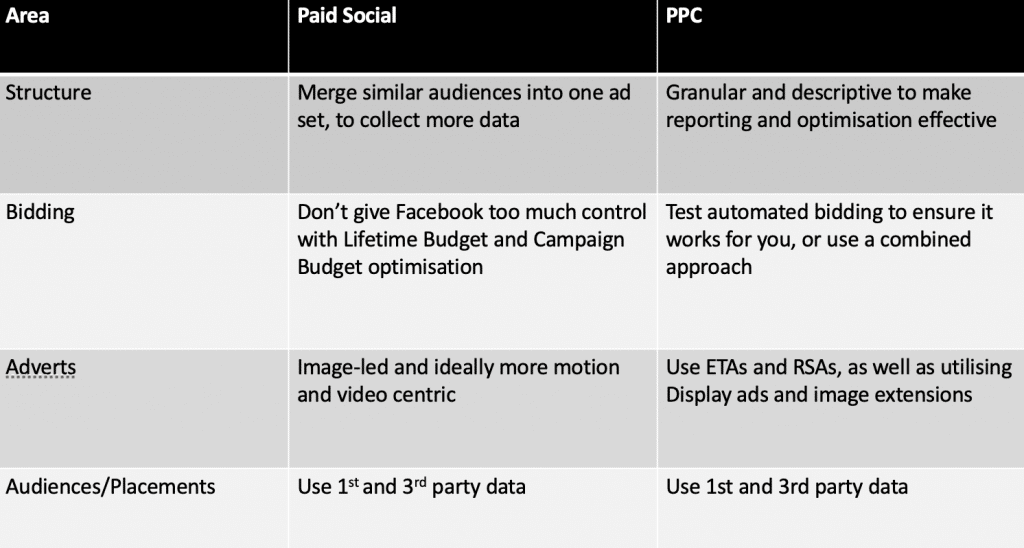 How Paid Social & PPC work together
Running both Paid Social and PPC for your brand is highly advisable, as the full-funnel approach allows you to capture your audience wherever they are in their purchase journey. Opting for one channel and not the other will limit your advertising's effectiveness.
Here are some benefits of running both paid advertising channels closely together:
Holistic view of performance 
Data sharing 
Audience Insights 
Competitor Targeting 
Keywords 
Consistent brand messaging 
Flexing budgets in line with performance 
If you'd like to find out more about Paid Social or PPC, get in touch with the CreativeRace Paid Media team for more tips and advice, as well an audit of your advertising accounts.
About the authors:
Meg heads up the Paid Social team at CreativeRace and has over 10 years experience spanning both agency and in-house roles. Past clients include ASDA, TK Maxx and ScS.
Bhavisha heads up the PPC team at CreativeRace, with 10 years of experience in PPC working across sectors such as retail, leisure, finance and property. She has worked on local and global brands including TK Maxx, Euro Car Parts, Topps Tiles, Mobiles.co.uk and Jabra.