How to check your Facebook Business Manager access level
Are you an admin of your Facebook page or Business Manager account? One issue our paid social team has recently seen is businesses having problems accessing their own social media accounts – in particular clients who are only employees within their own account.
Not only is this bad practice, it essentially means you do not have control over your own Facebook page. You don't own your data and you're forever at the mercy of whomever is the admin. Trust us – this can lead to huge problems.
If you ever move away from the current admin, whether this be a marketing agency or a freelancer, and you haven't changed your access level, then any future partnership will struggle as you don't have the right permissions to allow access or share assets. Believe us – it can be a nightmare trying to hand over access to your new agency, costing time and resource to all involved.
How to check your Facebook Business Manager access level
Here is how you can check your access level:
Go to Business Settings
Go to People
Then click on your name
Under your name it'll show your access level, either 'Employee' access or 'Admin'
If your access level is employee, we recommend having this changed ASAP. Unfortunately, it's not something you can do yourself, but whoever is the admin, can make this change. This is why it's so crucial to ensure that you gain admin access whilst you're still in touch with the current admin.
Pro tip: It's sensible to remove any old agencies and freelancers as admins once you part ways – you can never be too careful.
While we're on the subject, here's a handy guide on how to assign Facebook ad account to your new social media marketing agency.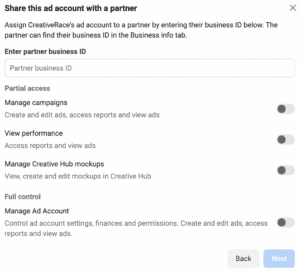 How to assign Facebook Ad Account access to your social media agency
Go to Business Settings
Click on Ad Accounts in the left hand menu
Select the ad account that you want to provide access to
Click Assign Partners. You'll be given the option to either assign the partner via your Business ID (which you can find in Business Info or in the main URL of your Business Manager account), or via a shareable link.
Use the toggles to decide which level of access you assign to your new partner
About the author: Meg heads up the Paid Social team at CreativeRace and has over 10 years experience spanning both agency and in-house roles. Past clients include ASDA, TK Maxx and ScS.
If you're looking for assistance with your paid social, or even simply need a second opinion on your advertising set up, our Paid Social team would love to help. Drop us a line via our contact page.