Featured snippets: how to optimise for 'position zero'
The featured snippet, or the more commonly named position 0, has long been considered the new 1st position by SEOs. Yet with the relentless battle for first page and first place, how important is it to land the coveted featured snippet?
What is a featured snippet?
A featured snippet has the prime position in the SERPs, providing a summary snippet that most effectively answers a search query.
In this very meta example, Search Metrics has the featured snippet for the phrase 'what is a featured snippet'.
That said, the SERP space can be a little confusing, long gone are the days of the simplistic paid and organic listings. Google is adapting the SERPs depending on the intent of the query, so to complicate things further there are actually a whole bunch of different types of Featured Snippets too, let's take a look…
Paragraph – brief, practical answer or summary to a query (like the one above)
YouTube – Commonly in response to "How-To" queries
Lists – to outline a process, different products or a category breakdown, best of lists, ranked items etc.
Table – used for presenting data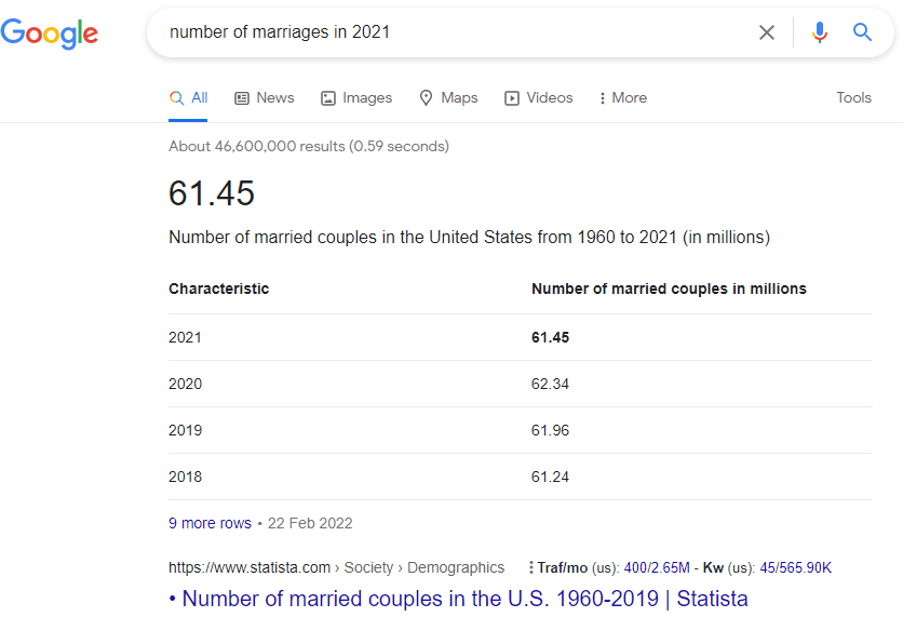 SERP features are of course always evolving as Google plays around with the best way of displaying content that best answers a user's search query. Only recently Google announced that it was testing two new features that seemingly rival Featured Snippets. These are called 'From the web' and 'Other sites say' – the output of these is not yet known…
Google is looking to serve the most relevant result for a particular query so in some instances this returns a result that doesn't require a click. Let's explore that further… This could mean we have another case of the double snippet (we saw Google's flirtation with this in 2018) where multiple websites are given the opportunity to secure "position 0" – this often happens when Google is trying to hedge its bets on content accuracy.
But why are featured snippets considered important?
Being at the top of the SERPs is a pretty great place to be, and let's be honest you're entitled to feel pretty smug about it. Google has reviewed your content for its accuracy, relevancy, and conciseness and awarded you with the top spot.
It's a big indicator from a trust perspective
It helps with brand building
You get a s**t tonne of visibility (if you rank for a keyword with a high MSV)
Surely now this means that you're about to be quids in and guaranteed a steady flow of organic traffic?
Welllll, not quite. Before we get hell-bent on being in position 0 and anticipating a huge surge in organic traffic, let's not forget the importance of search intent.
Google is looking to serve the most relevant result for a particular query so in some instances this returns a result that doesn't require a click. Let's explore that further…
Sometimes users are just looking for a quick answer to an informational query. This means having position 0 is fantastic from an impressions perspective but it won't always look so fantastic for your website click-through rate. The user has found what they're looking for with no need to visit the website. Position 0 is not looking so good for those traffic numbers now.
This is why doing some digging into available featured snippets and registering the intent behind the query is important for any content planning and optimisation.
How to identify featured snippet opportunities
Not every query has an available featured snippet, and in some industries they're more commonplace than others, so SEO software tools, such as Ahrefs, are absolute gold dust when it comes to helping to identify opportunities (and who they need to be stolen from).
Let's take Arla Foods UK as an example.
There are 979 featured snippet opportunities.
Arla Foods UK only has 13 of these!
This means there is a huge opportunity to review existing pages and associated brand pages to optimise content.
Now how do we secure them?
Now we've identified opportunities to go after now we need to prioritise and improve content. Here are a few steps we take:
Start by grouping all queries by associated landing page i.e. this page of Arla Food UK's site has 57 available Featured Snippets but it doesn't own any of them.
Review current position of keyword and prioritise featured snippets where you're sitting on page 2 (the easier win)
Review query intent – if the business goal is traffic will securing position 0 for that keyword drive clicks?
Review content format – how is content being displayed in SERPs i.e., is the expected result in video, listicle, in-depth guide? Can you offer that?
Review competition – how feasible is it that you will secure it? Are you the authority on the subject against competitors? This is especially relevant for YMYL industries (but perhaps that's another blog post…)
Review keyword difficulty
Understand Google's content policy
Optimise the content – from copywriting, keyword research, content repurposing and structured markup – this is where our SEO team comes in 😉
About the author:
Helen Hargreave is Head of Content Strategy at CreativeRace. She has 10 years' experience in crafting creative content marketing strategies that drive commercial results across a range of industries including FMCG, Retail, Travel, B2B, Finance, and Legal.