5 brands that are killing it on social media in 2022
The world of social media chops and changes constantly. New platforms, changing algorithms, countless simultaneous trends, and the wild world of TikTok – how are brands even meant to get a look in with so much noise?
It's no mean feat, that's for sure, but with the right strategy and well-planned execution, brands can see huge success on social. Here are five brands that are killing the social media game right now.
GoPro
GoPro have successfully built an online community of 19 million simply by letting their customers tell their brand story. GoPro's Instagram feed is led by its consumers, with hundreds of images and videos of GoPro users capturing their exciting experiences. Of course, it helps that the very nature of GoPro is recording adrenaline-fuelled sporting adventures, but this doesn't mean that they don't have a strategy in play.
GoPro carefully select which UGC (user-generated content) they transfer to their feed, so you won't find content of boring, everyday activities. You'll be inspired by snowboarding adventures, safari scenery, swimming with sea life, and hang-gliding at 2,000 feet. GoPro's feed is providing aspiration. You too can do all of these memorable activities, but you'll need to take your GoPro to capture the memories.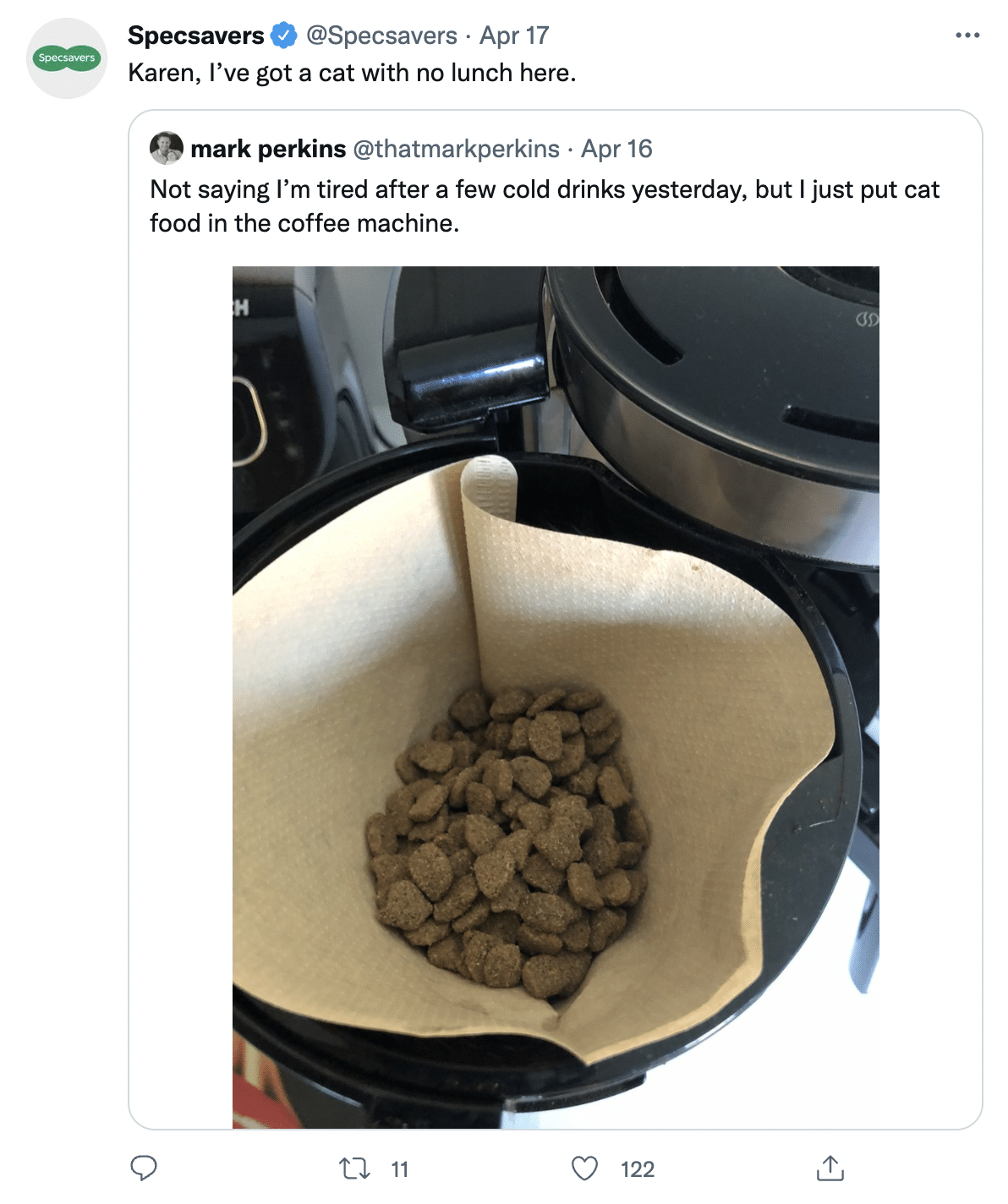 Specsavers
I don't think it comes as any surprise that Specsavers know how to engage with their online audience. Specifically looking at Specsavers' Twitter interactions, the optical giant truly nails being human on social. Through an always-on, trend-led approach to social copy, interactions, and community management, Specsavers have positioned themselves as one of the leading UK brands on the platform.
By pushing humour to the forefront of their activity, Specsavers have let their brand personality shine through and in return, have garnered a positive brand reputation amongst over 60,000 users.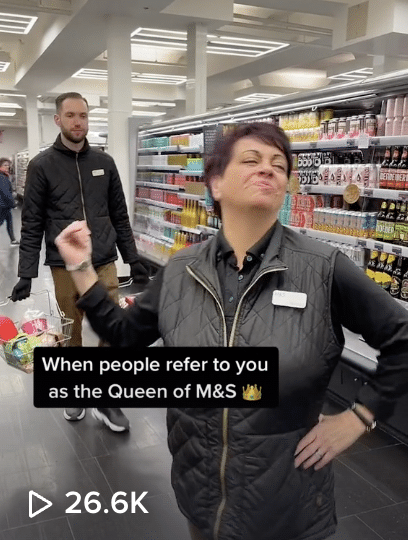 Marks & Spencer
Handing the social media reins over to your employees has become a huge trend for brands. It gives your brand a human-touch that blurs the line between brand and consumer.
Marks and Spencer have created multiple TikTok accounts for their stores across the country, including one for their store in Romford. Now at a staggering 74,000 followers, M&S Romford has become a star of the platform with a cult-like following – who'd have thought it?! TikTok's own account even collab'd with the staff at Romford to create an engaging music video back in 2021. The staff that run the account have given M&S the personality any brand aspires to have on social. We recognise the staff as they churn out creative, hilarious content, and we relate to the everyday 'normal' person over the multi-million-pound food corporation.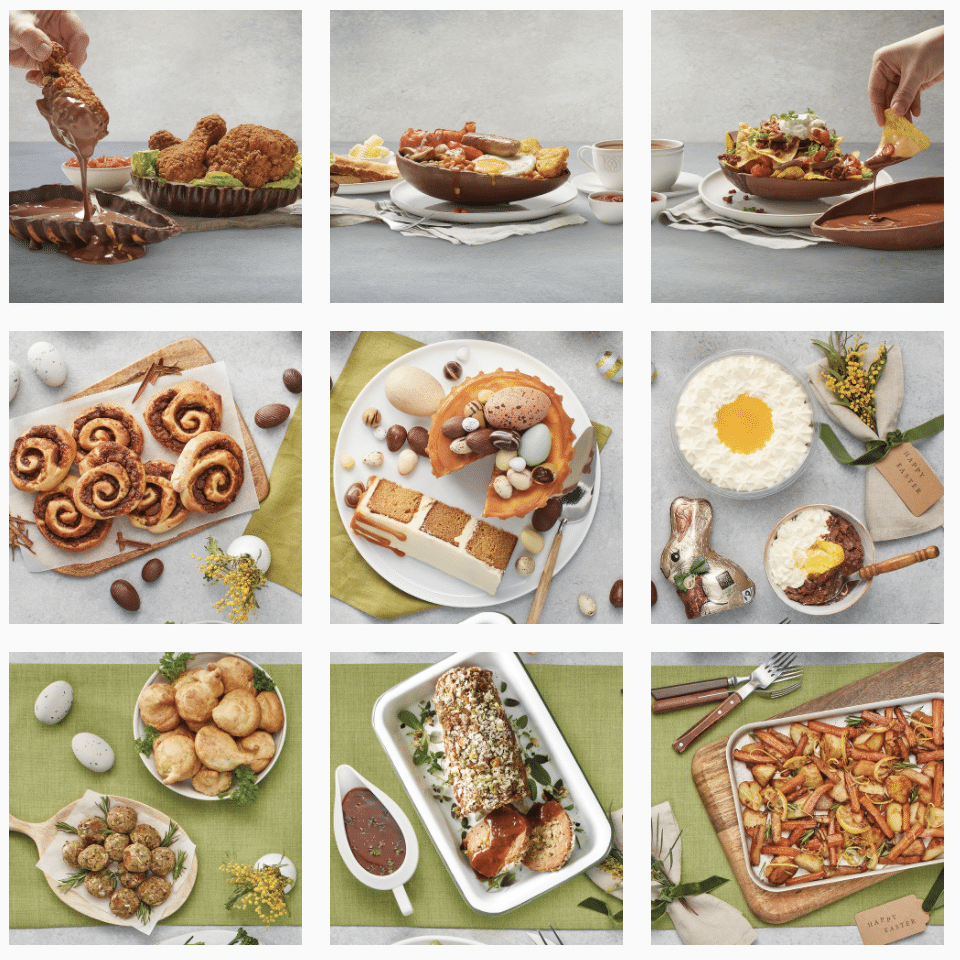 Aldi
From one social media manager to another, thank you Aldi social team. Your Instagram feed is a thing of beauty, and pure, strategic dedication. Aldi's Instagram feed is a continuous 'table' set with beautiful dishes that flow seamlessly into the next 1:1 card. The dishes even change seasonally, moving toward lamb centrepieces in Easter, and vegan dishes in Veganuary. Truly, well done Aldi.
Update: Sadly, as of October 28th, Aldi's infinite feed is no more. Sources cite that Reels are the reason behind switching away from the continuous content plan.
Their TikTok account has also recently reached 1 million likes after only one year on the platform, Aldi have certainly understood the purpose of TikTok and how best to create a buzz.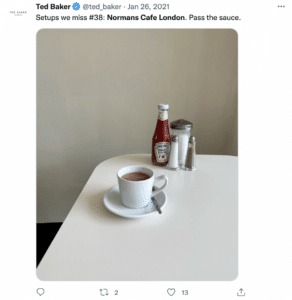 Norman's Café, London
I'm finishing on a rogue choice but a brilliant one nonetheless. Let me introduce you to Norman's Café. Norman's is a café in London serving up classic British cuisine such as chicken nuggets and chips and the full-English breakfast. With a picture of beans on toast at almost 3,000 likes, and a follower base of 39k, what is it about this independent café's Instagram account that people love?
Simply put, they've nailed their niche. Each image they share is placed on the same white table, on the same white plate, and a simple caption stating the dish. There are no gimmicks, it's full of nostalgia, and consistency is most definitely key.
Being successful on social is comprised of many things. Firstly, having a clear, well-thought-out strategy, and carefully executing that strategy is paramount. Knowing your niche, being human, and letting your customers speak for you are all super important ways you can utilise your online presence.
Keep in mind who you're making content for and remember not to be robotic. No one logs into their social accounts to see what a brand is up to, you need to give users a reason to stop scrolling – to read, engage, and interact with what you have to say.
Enjoyed this article? Sign up for our monthly newsletter – CriticalReading, for more social media & marketing trends & insights.
About the author:
Millie McKenzie is the Social Media Manager at CreativeRace, heading up our organic social media function. Millie's background is primarily in food & drink marketing, working with clients such as SKIPPY Peanut Butter, Leeds-based Mighty Drinks, and Very Lazy. Millie also runs a personal food-blog with over 10K followers.